Men's Workboots Vermont
Welcome to our comprehensive guide on men's workboots in Vermont! As a hardworking man, you need durable, comfortable, and protective footwear that can withstand long hours on the job. We understand the importance of having the right pair of work boots, which is why we have created this landing page to help you find the men's workboots in Vermont.
At our store, we offer a wide variety of men's workboots that are specifically designed for working environment. Our boots are made from high-quality materials that are durable, waterproof / water-resistant, and slip-resistant to keep you safe and comfortable all day long.
Our collection includes a range of styles and brands, from classic leather boots to modern composite toe and steel toe work boots. We have boots for every type of work, whether you're a construction worker, landscaper, or factory worker.
We understand that work boots need to be comfortable for long hours of standing and walking. That's why our boots are designed with comfort in mind. They have cushioned insoles and breathable linings to reduce foot fatigue and provide excellent comfort throughout the day.
Our work boots are also designed to provide excellent protection for your feet. The steel and composite toe options provide extra protection against impacts and compression, while the slip-resistant soles offer excellent traction on wet or oily surfaces.
In addition to our high-quality work boots, we also offer excellent customer service. Our knowledgeable staff is always available to answer any questions you may have and help you find the perfect pair of boots to meet your specific needs.
In conclusion, if you're looking for the best men's workboots in Vermont, look no further than our store. We offer a wide variety of high-quality boots that are comfortable, protective, and durable. With our excellent customer service and competitive prices, you can trust us to provide you with the best work boots for your needs. Shop with us today and experience the difference!
Green Triangle
A green triangle means that the boots protect from punctures in the soles and the toes have Grade 1 protection. All Mooselog and Tiger Safety boots have a green triangle. 
It means CSA approved for toe and sole protection not just for light  industrial workplaces like warehouses, big-box retail, truck drivers and couriers,  as well as heavier industries like manufacturing and construction sites.
Learn More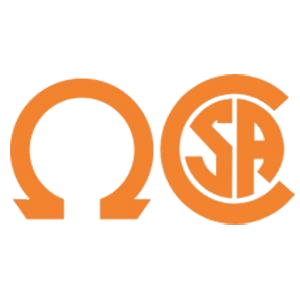 Orange Omega Symbol
Seeing an orange Omega symbol inside a white rectangle indicates that the boot houses insulation against electricity. If you are working in a place with the potential for shock, especially with live wiring anywhere, you'll want to find boots with this symbol. All Mooselog and Tiger Safety boots have got this patch. 
Shop Men's Steel Toe Boots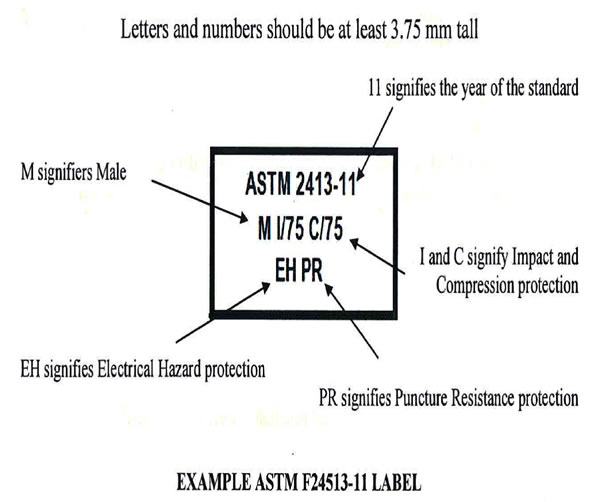 Meet ASTM Standard
ASTM (American Society for Testing and Materials) 2413 sets the minimum standards and testing procedures for safety footwear.  
Read More